Vixen
Can Ch Gandale's Dreamsong to Sershan RN, ROMC
Feb. 2, 2006 – Aug. 29, 2019
EYES: SA-EYE539/99F-VPI
OFA: #SA-14721E24F-VPI 'Excellent'
PEDIGREE
| | |
| --- | --- |
| Vixen at 5 months | Vixen at 10 weeks |
In April 2006, I was at a local dog show, when I offered to help a long-time Samoyed breeder decide between her two pick girls from her litter of 10-week old puppies at home. Well, once I saw the two girls, I knew I was taking one of them in particular home for me! Many thanks to Dr. Sheri Dalton of Edmonton, Gandale Samoyeds, for letting me steal Vixen away from her!
Vixen earned her Canadian Championship at the tender age of 6 months, in only two shows.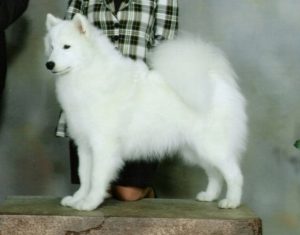 Vixen new champion – 6 months!
Vixen became the foundation girl for Sershan Samoyeds, bred to Tundra, producing our first litter in April/08. The results were exciting, including:
(See their individual page for more information.)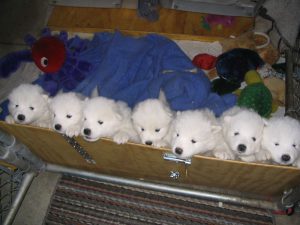 Foundation litter April 2008
Vixen comes from a long line of working Samoyeds; her pedigree includes dogs that were very involved with agility, hiking, obedience, and sledding, and it is apparent in Vixen's temperament. Vixen has the true focus and drive of a versatile working dog, and really needs to be doing things. She is a reliable and dependable lead dog on our sled team, and works very well in team. Vixen is everyone's favorite when they come to visit – she is such a cuddle-bug, and a real sweetheart!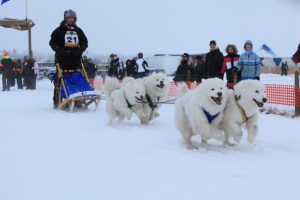 Vixen at lead, right, with her son Bowen
With great sorrow we announce that our foundation girl, Vixen, crossed the Rainbow Bridge after a valiant battle with a pancreatic tumor.
Vixen was the foundation girl for Sershan Samoyeds, earning her ROMC with only two litters, being a proud and wonderful Mama to 13 amazing puppies in those litters. She was the epitome of our belief of appreciating the true versatility of this amazing breed; Vixen was a Can Ch at a young age, earned her Rally Novice title, was the first of three generations of therapy dogs, and was an amazing lead dog on the sled team.
Most of all, she was the true matriarch in our home, and had such devotion to our twin boys from the day they were born. When the boys would cry as babies, she would softly howl to them and they would immediately stop crying and reach out to her. Anyone who came into our home will remember meeting this sweet girl. She is so dearly missed.
My sweet Missy V, thank you for everything – you taught our family so much, and we will miss you always. I hope you know how much you were loved, as we sure know how much you loved us.
Hike it Home, sweet girl! Enjoy playing with Tundra and Bowen again, and don't forget to play with Sider a bit, too.