Nanuk
Can Ch Belisarius Lubin Ernetuar CD
| | | |
| --- | --- | --- |
| | Nanuk enjoying the coast in Halifax | |
| | | |
| --- | --- | --- |
| Kingmik's Brin Vrai Belisaruis CD | x | Can. Ch. Kingmik's Snow River Mishka |
DOB: Sept. 16/88
CKC # VS715375
PEDIGREE
In 1989, I showed my first Samoyed – he was a client's dog, young and stubborn, and his name was Nanuk.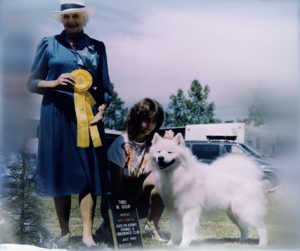 Nanuk at 1 ½ years old
Photo By: Mikron Photos
After I finished his Championship, the owner's faced the unfortunate situation of having to re-home him. I offered to take him until they found the right home him, and, long story short, wound up keeping him myself. When he came to live with me, he was over 2 years old, and had been raised with the philosophy of "he's only disagreeing with us" every time he asserted himself. Well, he was a handful and a half during his long life with me – challenging me at every turn until his last day. What I will always appreciate about Nanuk was his 'wild side' – placid was NOT a word he'd even heard of! We developed a relationship of mutual respect, and through it all, I somehow fell in love with the breed. Maybe it was Nanuk's thrill of life, or the way that fall and winter brought out the best in him – they are my favorite seasons, too!
While Nanuk was in his prime, I showed him to # 10 Samoyed in Canada. He also won BOS and Best Veteran at 7 years of age at the Canadian  national Samoyed Specialty in 1996. He was a good quality dog, though very English in type, and very different for what was being shown at the time.
Nanuk at 5 years




Photo By: Mikron Photos

Nanuk at 6 years
Photo By: Mikron Photos
Nanuk at 7 years
Photo Taken at Canadian National Specialty, Halifax, 1996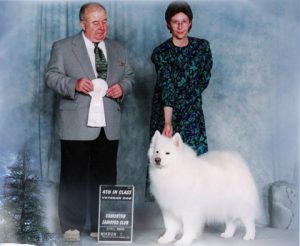 Nanuk at 11 years
Photo By: Mikron Photos
I have frozen semen available to approved girls for Nanuk.