At Sershan Samoyeds, we appreciate the true versatility of the Samoyed breed, with many of our Sams being active in sledding, weight pulling, Rally-Obedience, Herding, and Agility, as Champion show dogs, and the perfect companion in the home at the end of each day, regardless of the activity.
Here and through other Working links are pictures of Sershan Samoyeds doing what they do best – a little bit of everything!  Enjoy!
Sledding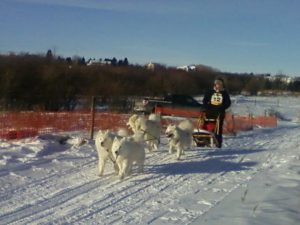 My first sled ride was in late 2006, and I was so thrilled watching my own dogs, Tundra and Vixen, enjoy the harness for the first time. We were out with Paul Rintoul and the Snowfire Samoyeds gang and dear friend David deGreeff (who I blame for starting it all!!), and we harnessed up my dogs and let them go – I was HOOKED!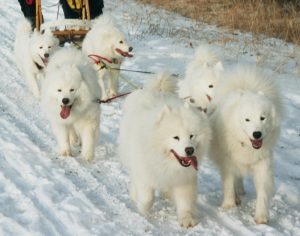 Tundra and Vixen in lead trying sledding.
The exhilaration of being pulled by the power of your own dogs in combination with the sheer joy they obviously have in harness is unexplainable, and I went out every chance I could – at least whenever Paul went out and I could borrow some of his dogs!
Tundra & Vixen in Lead on the Red Deer River 2007
I had to keep 'borrowing' dogs since I only had my 2, but then Sider came along, and we started to use more of our own power.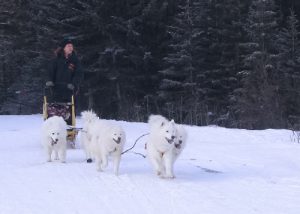 L-R Kato, Mercedes (hiding) (both Snowfire Dogs), Sider, Vixen, Tundra
In February, 2011, we entered our very first competitive race at the Rosebud Sled Dog Run in Didsbury, AB. Our team was all Sershan Samoyeds, and we had such a good time running and enjoying the scenery that the dogs didn't realize it was a race!!!
L-R Sider, Finnigan (at wheel), Bowen, Vixen (at lead)
Rosebud Sled Dog Race 2011
The sledding bug has certainly bit me, and the Sershan Samoyeds are trained and worked year-round to keep them in condition.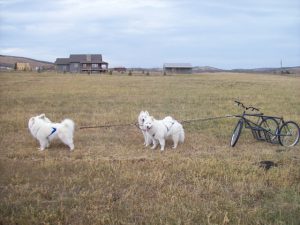 L-R Bowen, Vixen (behind Bowen), Finnigan, and Tucker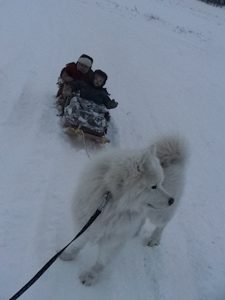 Bowen Pulling the Boys 2011