Tundra
MBIS Can Am Ch Kolinka Northern Bright Light
# 1 Samoyed for 2005 and # 6 Working Dog for 2005.
| | | |
| --- | --- | --- |
| Am/Can/Gr UKC Ch. Kolinka's Moonlight Dancer | x | Am/Can Ch. Kolinka's Brie Ann |
Dec. 12 1999 – Oct. 19 2012
CKC # JY630249 AKC # WR03948301
OFA # SA-13013G25M-PI "GOOD"
OVC # 1571 CERF # SA-4775
PEDIGREE
In 1999, a friend came to me with a 6-month old male puppy for me to show. I watched this youngster in my backyard for maybe 15 minutes before I looked at her and said, "This is a Best in Show dog – I want a piece of him!" I became co-owner of the puppy shortly thereafter. The puppy's name was Tundra.
I kept Tundra with me that fall until he finished his Championship as an 11-month old puppy, then we sent Tundra to the US in 2002 to earn his American Championship, which he earned quite readily over 6 months. Tundra came to live with me upon his return. He was just 2 ½ years old at the time, and prior to going to the US, had been bred to his other owner's girl. At the Alberta Kennel Club show that fall, two out of three days, Tundra won BOB, the girl he had been bred to won BOS, and the pick puppy from their litter won BOW and BP at 6 months of age.
| | |
| --- | --- |
| Tundra at 7 months of age | Order from left: Tundra (BOB), Kara (BOS), and Storm (BOW & BP) |
Tundra stayed at home and grew up, and grew coat, for the next few years. Once he had returned home from the US, I started planning his campaign year for 2005. And what a year we had! After 122 times of entering a breed ring, we won an exciting Best in Show at Canada's largest indoor show at Lower Mainland in B.C. in October, 2005, bringing his total to 5 Best in Shows for the year. In the 122 times we entered a breed ring in 2005, Tundra only lost the breed 10 times. Tundra's show record for 2005 includes 5 Best in Shows, 1 Reserve Best in Show, 23 Group 1st, 10 Group 2nd, 14 Group 3rd, and 17 Group 4th.
| | |
| --- | --- |
| BIS # 1 – May, 2005 Judge – Mr. Richard Lopaschuk | BIS # 2 – July, 2005 Judge – Mr. F.M. (Butch) MacDonald |
| BIS # 3 – July, 2005 Judge – Mr. Maurice Tougas | BIS # 4 – August, 2005 Judge – Mr. A. Capistrano Neto |
| BIS # 5 – October, 2005 Judge – Mr. Miguel Martinex | |
| | |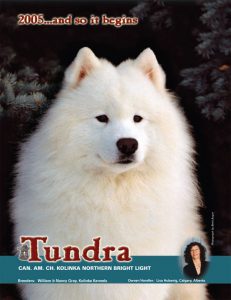 Ad By: Canine Review
Photo By: Brett Auger
It is with the greatest sorrow and heaviest of hearts that we said good-bye to our beloved Tundra Oct. 19, 2012. He was just shy of his 13th birthday, and was called home across the Rainbow Bridge, while laying on the grass on the farm, in this morning's sunshine.
Tundra was not born at Sershan Samoyeds, but it can be said that Sershan Samoyeds was born from him. Everything we are, everything that we do, and all the dogs that share our lives here, are because of Tundra.
There are simply not enough words to express his essence, who he was, and what he meant to us. And even with all of the words, none would be adequate to describe him, or how much he was loved.
To those that were a part of his exceptional life, I thank you from the bottom of my heart. He was my everything. He will be so missed.