Bowen
MBOSS SMIS Can Am Ch Sershan's I Got Rhythm
DOB: April 29, 2008
EYES: SA-EYE546/72M-VPI
OFA – HIPS # SA-15399G24M-VPI "GOOD"
OFA – CARDIAC # SA-CA676/48M/P-VPI "CLEAR"
PEDIGREE
Bowen is from the foundation litter at Sershan Samoyeds, out of Tundra and Vixen, was the fifth puppy born in this litter, and one of four boys produced.
| | |
| --- | --- |
| Bowen at 5 weeks | Bowen at 10 weeks |
Our little boy certainly is his father's son, and continues to grow up wanting to be just like him, finishing his Canadian Championship at 11 months of age. The following weekend, at the same show as the 2009 SAC National Specialty, Bowen won Best Puppy in Breed. At the National Specialty the next day, he made the final cut to be one of three male Specials left standing!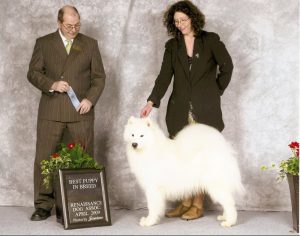 Bowen Best Puppy in Breed
As a young adult, Bowen won Best Opposite Sex (Best Male) at consecutive Edmonton Samoyed Club Specialty shows in 2010 and 2011. Bowen sired our fourth litter at Sershan Samoyeds, bred to Sider, with puppies born March, 2011. At the Specialty show in October, 2011, Bowen won Best of Opposite Sex ('best overall male') while his daughter, Ziva, won Best of Winners ('best overall non-Champion'), and Best Puppy, while his son from that litter, Cabo, won Best Male (non-Champion).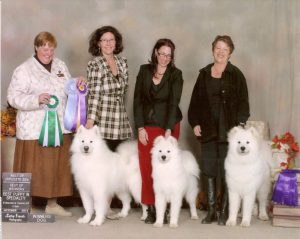 Bowen is our top lead dog on the sled (at lead on left in picture below), working with either his mom, Vixen, or with Sider at lead. He also earned his Herding Instinct Certificate in October, 2011, on our way to the Specialty! He is a very sweet dog, who loves everyone, and can get all his kisses in from his favorite place on the corner of the couch!
"It was one of the hardest days, as we said our Good-Byes to sweet Bowen, laying in the morning sun, taking his last breaths here at home where he took his first breaths, 10 days shy of his 11th birthday.
Bowen had a stomach tumor, discovered January 3rd, and he had a wonderful three months, defying the odds, but in the last few days it was clear that it was time for him to leave us.
As you gained your wings today, sweet boy, enjoy chasing George, catching up and playing with your dad, Tundra, and your girlfriend, Sider. We already miss you so very, very much – your woo-woo's, your snorking on the couch, your paw-hug when getting belly rubs, and your sweet face.
I hope you know how much you were loved, as we know how much you loved us. Run free, be young and strong again, and smile your sweet smile until we see you again."