Sider
Can Ch Moonlighters Stan Beside Her
| | | |
| --- | --- | --- |
| Am Ch Moonlighter's Grandstander ROMX | x | Am Ch Moonlighter's That's My Girl |
Owner: Lisa M Hubenig
July 15/06 – July 21/18
EYES: SA-EYE541/93F-VPI
OFA – HIPS # SA-15405E45F-VPI "EXCELLENT"
OFA – CARDIAC # SA-CA677/69F/P-VPI
PEDIGREE
| | |
| --- | --- |
| | Sider at 6 months |
In September, 2007, I had the fortunate opportunity to meet and visit with Jeanne Nonhof of Moonlighter Samoyeds in Wisconsin, USA. Jeanne has bred several top U.S. Champions, including "Bark" (MBISS & BIS Am Can Ch Moonlighter's Ima Bark Star TT) and "Stanley" (MBISS Am Can Ch Moonlighter's Grandstander). What I enjoy so much about Jeanne is her obvious love of the breed, and her work with them. Not only does she show these wonderful dogs, she does agility and weight-pull as well!! She genuinely appreciates the true versatility of this breed, an appreciation we share.
While I was visiting Jeanne, she had two yearling girls from the 2006 Stanley breeding, and I fell in love with Sider! After much visiting and watching the Moonlighter dogs (including Sider's mother AND grandmother), Jeanne and I agreed that Sider would come to Canada and become the second foundation girl of Sershan Samoyeds.
With only one previous US show under her belt as a puppy, Sider proved her worth here in Canada in short order as a 'yearling' at 16 months old. Her first show, first 2 days in the ring, she won Best of Breed – pictured below!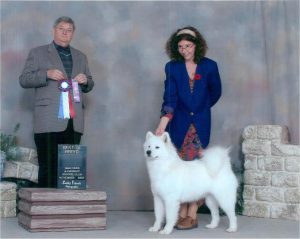 Her second show, she won Best of Winners the first 2 days, earning her Canadian Championship in only two weekends!!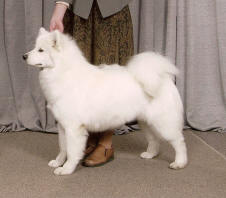 Sider at 16 months – new champion
In December/08, Sider produced our second litter at Sershan Samoyeds, sired by Tundra. The results were impressive, including;
"Taiga" – Can. Ch. Sershan's White Lightning
"Finnigan" – Sershan's Miller Light, RN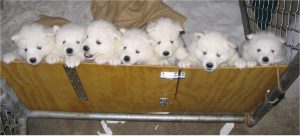 Tundra x Sider puppies at 5 weeks
Just over 2 years later, we bred Sider to Bowen, who is Tundra's son. The litter was born in March, 2011, and the results were even more exciting!
"Ziva" – Can. Ch. Sershan's Moonshadow
"Cabo" – Can. Ch. Sershan's Moon Of Mabel Cape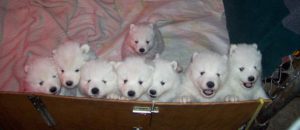 Bowen x Sider puppies week 4
Sider won my respect as a real working dog and she worked hard in every position on the sled team; she excelled at wheel, worked well as a lead dog, and pulled just as hard in team. Sider was a great all-around sled dog, and truly a wonderful girl to have around. Her favourite playmates were the twin boys!
Sider at wheel, on left, with her son, Finnigan, and with the twins in December 2009.
On July 21, 2018, we had to say a tearful good-bye to our Sider. She was a truly wonderful girl who taught me so much – she was a tough cookie who loved the 2-legged boys with fierce devotion, worked hard in harness at all positions, and spoiled her grand-kids.
She will be dearly missed – I will strain to hear that special voice of hers barking for her food and to come in for her daily snuggles.
You had to leave so quickly sweet girl but I'm glad we had a chance to say our good-byes here in the sunshine at home. We love you and will see you again at the Bridge. You are a good girl! Say Hi! To Tundra for us????