Other Activities
At Sershan Samoyeds, we appreciate the true versatility of the Samoyed breed, with many of our Sams being active in sledding, weight pulling, Rally-Obedience, Herding, and Agility, as Champion show dogs, and the perfect companion in the home at the end of each day, regardless of the activity.
 In addition to sledding, herding, obedience/Rally, and Agility, Sershan Samoyeds have been involved in other activities that keep them working and active.
 In 2004 I started Weight Pull training with Tundra.  A few years later, when Tundra was 8 years old, in 2007, we held a Weight Pull demonstration, and Tundra 'won' the demonstration by pulling 850 pounds – as a 'senior'!!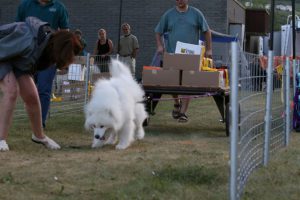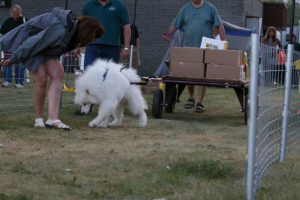 As every owner is different, they find different things to do with their Samoyeds. Here are a few pictures of Sershan Samoyeds doing other activities.
"Kuma" – Sershan's Madame Butterfly – Pack Hiking (above) and then babysitting

"Taiga" – Sershan's White Lightning – Hiking in Whistler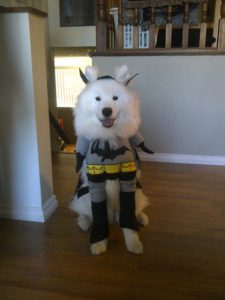 "Alastair" – Sershan's Moonlight Sonata – Enjoying Halloween