Welcome to Sershan Samoyeds!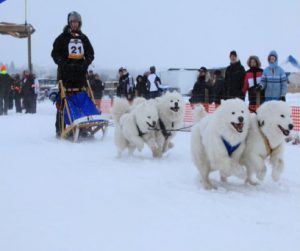 At Sershan Samoyeds, we appreciate the true versatility of the Samoyed breed, with many of our Sams being active as Champion show dogs, sledding, weight pulling, Rally-Obedience, Herding, and Agility, and not to mention the perfect companion in the home at the end of each day, regardless of the activity.
Our breeding dogs are all health tested and cleared, with puppies available occasionally.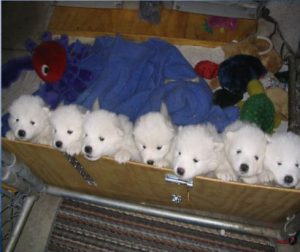 I am a proud member of the Samoyed Association of Canada, the Canadian Kennel Club, and the Samoyed Club of America.  I am also a founding member of the Western Canada Samoyed Club, where I am also the Rescue Co-Chair for the Samoyed Association of Canada.
You can read up on our complete history of our involvement with Samoyeds on Our History page, and meet our current 'crew' in the Boys and Girls pages.  You can see several Sershan Samoyeds demonstrating their versatility in the Working page, including sledding, herding, and obedience.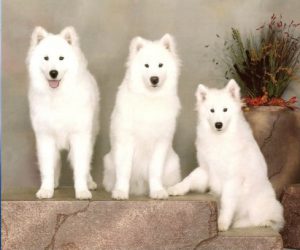 Upcoming litter information can be found on our Puppies page.
Any available Rescue Samoyeds that we have in Foster, or have information on, can be found on our Rescue page.
For those wonderful dogs that have come before and left us, forever leaving their pawprints on our hearts, you can appreciate them on our In Memory links through the menu at the top of the page.
Thank you for visiting Sershan Samoyeds, and please don't hesitate to contact us for any questions you may have!
Sincerely,
 Lisa Hubenig, CPA-CMA
Sershan Samoyeds
Treasurer, Rescue Co-Chair of the Samoyed Association of Canada, Founding Member, Western Canada Samoyed Club
E-Mail Lisa
or click on the Mailbox in the picture below