Therapy
The Samoyed breed has long been known for their friendly disposition, and the natural bond they have with children cannot be understated.
For years I worked with the Calgary organization, PALS ("Pet Access League Society") with my original Sammy girl, Krystal, and we went to visit the lovely folks in Senior's complexes, and in hospitals.
When we moved, and Krystal retired from visiting, I missed sharing the joyful spirit of our Samoyeds.  Then I heard about a program called Literacy for Life, and their Dog Tales program.  These dogs get to go into local schools and sit quietly while a child reads to them.  These children may have learning disabilities, or need to work on their social skills, or may just want to read to a dog!
In 2014, our girl, "Vixen", became the first of our Sershan Samoyeds to qualify for the program, and she LOVED it!

Vixen enjoyed the visits with the children, and as she aged she had some good days and some not so good days, so I decided to try another one of our crew to help relieve her on her not-so-good days, and Vixen's son Bowen joined the same program in 2015!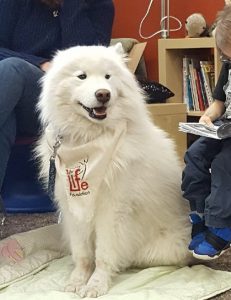 This program is amazing, and wanting to make sure I always had a 'fresh' dog to come visit with the kids, I included Bowen's daughter, "Ziva" in the testing for the program, and sure enough, she is now our third Sershan Samoyed, and THIRD GENERATION, to be involved!