Finnigan
Sershan's Miller Light RN
DOB:  December 28, 2008
OFA – CARDIAC # SA-CA682/40M/P-VPI
EYES: SA-EYE543/64M-VPI
PEDIGREE
| | | |
| --- | --- | --- |
| | | Finnigan at 7 weeks |
Finnigan is from the second litter at Sershan Samoyeds, out of Tundra and Sider, was the fifth puppy born in this litter, and one of five boys produced.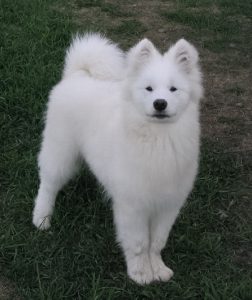 Finnigan at 5 months
Due to an unfortunate incident with another dog at an early age, Finnigan was unable to be shown, and is here at Sershan Samoyeds as the official 'farm dog'!
Finnigan excels at absolutely everything I try with him; he is the best wheel dog on the sled I have ever worked, and he pulls his heart out every time. He is a natural herder, with his Herding Instinct Certificate, and earned his Rally-Obedience title in three trials straight!
Finnigan at wheel on right

Finnigan herding

Finnigan and 6 week old pup

'Uncle Finnigan' is a favorite of the puppies, and we don't know who has more fun, him or the pups!
Finnigan is a special boy and has the greatest sense of humor. His favorite game is to dig, in dirt or snow, and chase the dirt / snow as he flings it, then goes and barks at it where it lands! Then he starts all over again! He is a wonderful boy, and is truly the epitome of versatility.