Quinn
Can Ch Sershan's Razzle Dazzle
DOB: April 29, 2008
OFA : # SA-15404E24M-VPI "Excellent"
CERF: # SA-359865
Owners: Dwain Blinn & Susan Harder, and Lisa Hubenig
PEDIGREE
Quinn at 9-10 weeks
Quinn is from the foundation litter at Sershan Samoyeds, out of Tundra and Vixen, was the fourth puppy born in this litter, and one of four boys produced.
He is living with Dwain and Sue, playing non-stop, and meeting many new friends along the way!! We are grateful to have found such a wonderful home and family for Quinn, and we get to share in watching him grow up.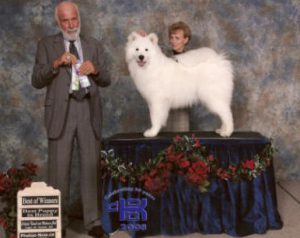 Quinn's first points!